WHY THE SNOO?
If you have found our page you probably already know all about the wonderful Snoo Smart Sleeper! Designed by paediatrician Dr Harvey Karp, the Snoo creates a soothing sleep environment for your baby with a combination of motion, white noise and a cozy swaddle. For more information on the world's most awarded baby bed, click below!
Learn More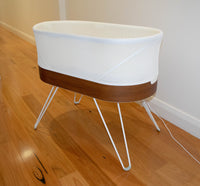 HOW THE RENTAL WORKS
On average babies sleep in a bassinet for 4-6 months before transitioning to a cot. Hire a Snoo and only pay for the time your baby uses it!
Learn More